Thailand is among the top 10 countries with the highest rates of road traffic fatalities (according to the World Health Organization). Phuket alone reports over 500 motorbike accidents involving tourists in only 2 months.
It is rare for a month to pass without news headlines reporting on tourists being involved in motorbike accidents in Thailand:
A significant number of tourists fail to follow regulations when using a motorbike as a driver or passenger. Additionally, they frequently lack an insurance coverage to assist them in case of accident.
Some tourists without insurance or enough financial resources to cover medical bills may resort to crowdfunding to obtain financial assistance for medical bills they are unable to pay by themselves.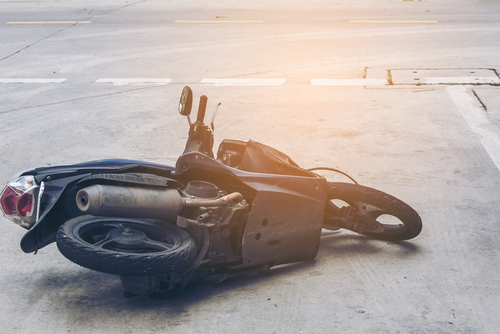 Thailand motorcycle accident statistics
According to WHO, road accidents in Thailand remain a significant health concern that claims more than 20,000 lives each year. Road accidents can result in high-impact injuries that can accumulate large medical expenses.
Motorcyclists account for 74% of all road deaths, according to the Department of Disease Control. Of the 20,000 people killed on roads each year, 15,000 of them are motorcyclists. That is three out of four fatalities.
Sources: Bangkok Post, The Nation
How much can a Motorbike Accident in Thailand cost
Bone Fracture in a motorbike accident in Thailand
A common injury from road accidents is the fracture of bones.
A single simple fracture of the bone that requires hospitalization and inpatient treatment can cost more than 100,000 THB (3,000 USD) including the cast.
A severe single fracture can require about 2 to 7 days of hospitalization, which can rise to 300,000 THB (9,000 USD). Additional charges will then be required for the post operative rehabilitation.
In more severe cases, road accidents can result in multiple bone fractures. Surgeries to treat multiple bone fractures can range between 10,000,000 THB to 20,000,000 THB (30,000 USD to 60,000 USD) as treatments can require multiple orthopedic surgeries and rehabilitation over a period of time. The surgery for multiple bone fractures can take 1 to 3 weeks, and rehabilitation can take up to even 1 year depending on the bone and the severity of the injuries.
Organ Damage in a motorbike accident in Thailand
In many cases, severe road accidents can cause organ damage in addition to multiple bone fractures. Some of the common organ damages due to road accidents include ruptured spleen, ruptured liver, and thoracic injuries.
Such damage to the organs can cause internal bleeding, which can be life-threatening and require immediate general surgery. Medical expenses to treat internal bleeding due to road accidents can easily exceed 500,000 THB (15,000 USD).
In a worst-case scenario, the most severe outcome could be a brain injury, which is more prevalent in motorcycle accidents due to the absence of adequate body protection and limited head protection. A large number of reported motorbike accidents involve riders or passengers who were wearing just a swimsuit and an insufficiently protective helmet, or sometimes no helmet at all.
A case study of a motorbike accident in Chiang Mai
In 2019, a 31-year-old motorcycle rider was admitted to a hospital due to injuries sustained from a crash with another vehicle in Chiang Mai. The patient underwent general surgery to treat internal bleeding from damaged organs. He also sustained brain damage, which resulted in a state of coma. He was admitted to the ICU at the hospital's neurosurgical intensive care unit for about a month. The patient underwent multiple orthopedic surgeries to mend the broken bones and months of rehabilitation.
The breakdown of medical expenses for the treatments includes:
Hospitalization: surgery using anesthesia
Hospitalization: room and board
Hospitalization: professional fee
Hospitalization: surgeon's fee
Nursing and hospital expenses
ICU
Laboratory
Medicine
X-Ray
Total medical expenses: 3.1m THB (93,000 USD)
Managing High Medical Bills After a Motorbike Accident in Thailand
In the event of a motorbike accident in Thailand, local medical care can be costly, especially if the accident results in severe injuries. However with travel insurance, travelers can obtain coverage for medical expenses, including emergency medical treatment, hospitalization, and medical evacuation if necessary.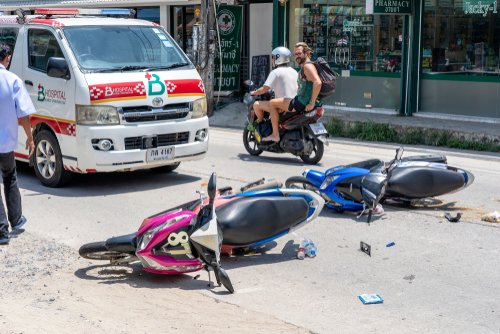 Investing in a travel insurance can be cost-effective despite appearing to be an unnecessary expense initially. Travel insurance provides travelers with financial protection without requiring them to spend excessively. Ultimately, travel insurance that includes coverage for motorbike accidents in Thailand can provide travelers with a sense of assurance, financial security, and access to quality medical care during an emergency.
How to choose the best insurance to cover motorbike accidents in Thailand?
Choosing the right insurance to cover motorbike accidents in Thailand can be a bit overwhelming, but here are some things to be on a lookout to help you make an informed decision:
Does the policy cover for the rider or the passenger?
What are the exclusions
Does it cover medical bills or does it compensate a lump sum? To what amount?
Does it cover damage to the bike?
What are the criteria to make a claim? Ex: Does the motorbike rental need to be under claimant's name? Is an international driving license required? What is the time limit to report an accident? Etc.
How to submit a claim?
Read reviews.
Luma Travel Insurance covers:
Motorbike accidents (as the rider or passenger)
Medical expenses up to 100,000 USD
Direct billing services available within Luma's extensive medical network in Thailand
Personal Accident (in case of death or permanent disability)
Emergency evacuation (to the nearest facility capable of providing adequate medical care)
Follow up care for medical expenses in home country (up to 90 days after return to home country)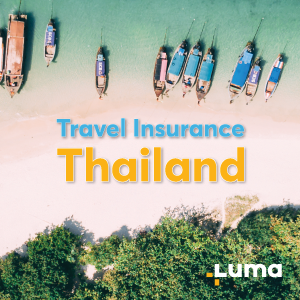 Luma Travel Insurance for Thailand plans are available for online purchase. If you are unsure about what option to choose, contact our consultants.